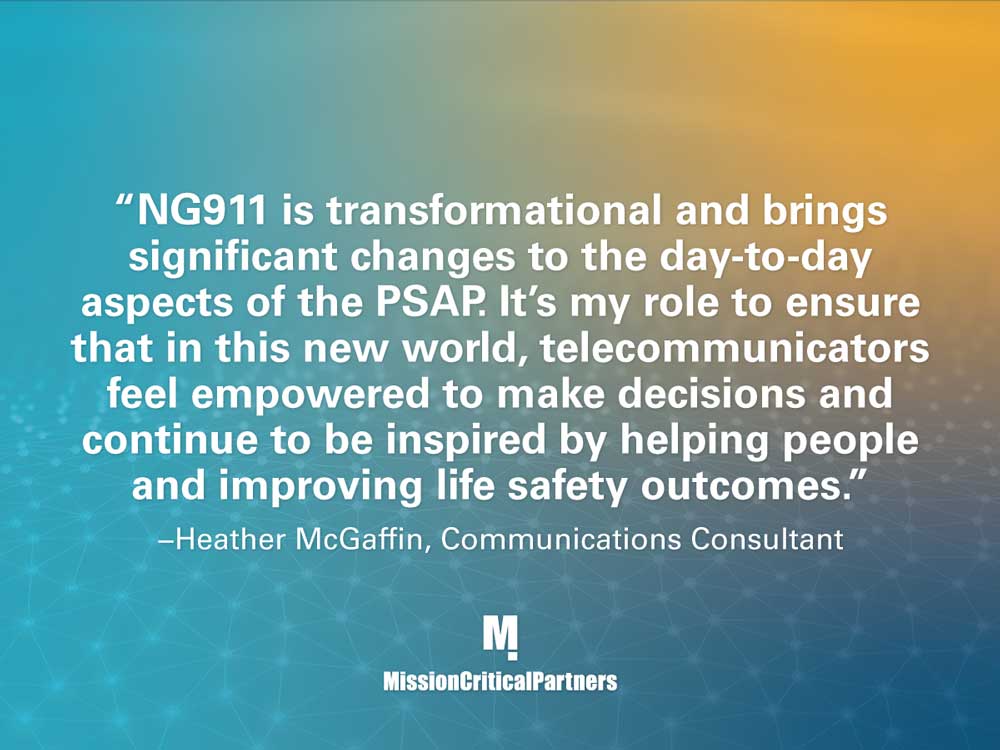 Our people and culture make Mission Critical Partners (MCP) a great place to work. Our "Life at MCP" series introduces our team members, the role they play in our organization and their passion for helping the public safety industry thrive.
One thing that differentiates the team of specialized professionals at MCP is the fact that many of them came from the "other side."
Nearly half of MCP's subject matter experts were former public safety answering point (PSAP) managers or first responders who have dedicated their entire career to supporting the mission. With them comes specialized industry experience and a unique perspective on what clients really want in order to realize project success.
One such example is Heather McGaffin. Heather is a Communications Consultant at MCP, where she works primarily on next generation 911 (NG911) projects. With her comes the operational experience she's earned from rising up the ranks in the PSAP environment. Her career began as a telecommunicator and she quickly rose to the role of assistant chief of communications in a Maryland PSAP where she worked until she joined MCP in 2015. Today, she plays a unique part in helping clients along their NG911 journey—focusing on the human aspect of NG911, which includes training and continuing education so that telecommunicators and PSAP administrators can thrive in an NG911 environment.