Life at MCP: Meet Bonnie Maney

Bonnie Maney, vice president and director of facilities and operations services with Mission Critical Partners, has been working in public safety dispatch centers for more than twenty-five years. She's always had a passion for making an impact on the first-responder mission since the early days of her career working in public safety answering points (PSAPs) in Florida.
Coming to the "other side"
Bonnie spent most of her career working in the public sector. In 2015, she decided to make a significant career switch by pursuing an opportunity in the private sector when a close colleague recommended she join Mission Critical Partners. "I started consulting in 2010 for a national non-profit consortium where I worked for federal, state and local clients on various levels. I always wanted to try consulting and after this experience, I knew I had found a new calling that added another layer to my already satisfying career." said Maney.
Since then, she continues to work on project of many shapes and sizes.
One of the most rewarding aspects of her job is, "Every project is as equally important to every client regardless it's size. The work we're doing plays a critical role helping them advance their mission, and that's where I find the greatest satisfaction."
Even early in her career when she worked her way up from a telecommunicator to a PSAP manager, Bonnie has always been passionate about making an impact on public safety—whether it be for technology initiatives or working one-on-one with the staff helping to improve operations and promote a positive work environment.
"This was one of the reasons I chose MCP when I decided to make a switch. Our brand promise of 'Because the Mission Matters' along with our core values and our dedication to teamwork really resonated with me," says Maney.
Going the distance
Being in the PSAP reminds Bonnie every day how fortunate she is. "No matter how much your world is falling apart, someone else is experiencing a tragedy beyond what you can imagine."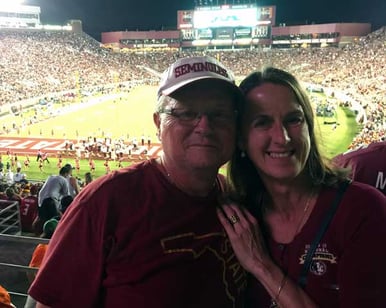 This inspires her in the work she does volunteering as a marathon coach to benefit the Leukemia and Lymphoma Society. "Part of the reason I'm so determined to helping people that suffer from blood cancer is that it's one of the most non-discriminatory group of diseases that exists—it can affect you regardless of your age, gender, ethnicity, background or your social status," she explained.
Running plays a significant role helping her balance her work and personal life, which is full of family, faith and being active. Since 2003, she has completed twenty-seven marathons and feels blessed that she can help and inspire others because of her endurance, which she views as a gift.
An appetite for learning
Opening your mind to learning and listening is something that inspires Bonnie in her work every day. She advocates for always having an appetite to grow professionally and personally.
Bonnie's career advice
"I consider everyone around me a mentor. All you need to do is take the time to listen and you'll learn something," she says. "MCP is a place where there is tremendous opportunity to learn and grow. It is important to make the most of a world where tomorrow is not guaranteed."
SHARE: