Life at MCP: Meet Mark Athearn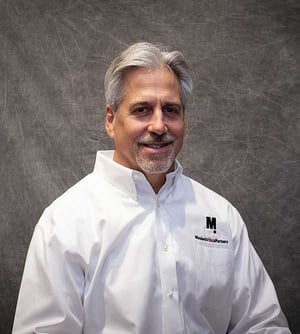 One never knows when the proverbial light bulb is going to turn on. For Mark Athearn, who recently was promoted to consulting lead within MCP's wireless communications services market segment team, it happened when he was in the U.S. Navy, when he was on his hands and knees scrubbing the flight deck of an aircraft carrier.
"I never wanted to do that again—that was when I decided I needed an education," he says.
Mark eventually was trained as an electronics technician, and upon leaving the Navy enrolled in college, starting with night classes. Later he earned a bachelor's degree in electrical engineering technology from Southern Polytechnic State University in Marietta, Georgia, near Atlanta. He received three job offers upon graduation; the one he chose involved working with robotics and computer automation.
A decade later, Mark followed a few colleagues to Ericsson/GE, where he worked on land mobile radio systems for mission-critical applications, an experience that will serve him quite well at MCP. He began to climb the ladder, first becoming a system engineer doing design and implementation work, and later moving on to project and program management. Eventually he became general manager of the company's Canadian operations. Based in Toronto, he oversaw six regional offices scattered across Canada.
Mark later landed at RCC Consultants as regional director for the eastern United States. Black & Veatch acquired the firm in 2015 and rechristened it Black & Veatch Public Safety (BVPS). Roughly five years later, MCP acquired BVPS, a deal that was announced in January 2020.
Five months later, Mark says that one aspect of MCP's culture that he has found very impressive is the firm's unyielding embrace of the core principles—persistence, integrity, trust, accountability and prudence—that guide every thought and action of the firm's 145 subject-matter experts.
"Every day those values are on display—they are real, and they truly have meaning," he says. "They're not just something you hang on the wall."
He also has been impressed with the firm's devotion to the Rockefeller Habits, a set of guiding principles intended to provide companies with a roadmap to success.
"It all makes sense—it's very important to achieve alignment concerning goals and objectives, and to ensure accountability," he says.
Mark is passionate about making a difference and having a positive impact on those around him. In that regard, working within the public safety community for so long has been ideal.
"This is a tremendous industry to be part of," he says. "MCP's slogan is 'because the mission matters,' and the public's safety, and the safety of our first responders, really does matter."
Upon joining MCP, Mark's first task was to assist with the execution of a 100-day plan for transitioning the former BVPS personnel. It has gone well, he reports.
"When your firm is acquired, there often is a feeling of nervousness, even trepidation," he says. "Am I needed; will I have a job? But all of the Black & Veatch people not only have jobs that they feel good about, they all feel as if they have found a home. MCP was a good place to land."
Mark has since embarked on an initiative, sparked by the COVID-19 pandemic, to determine how the firm's expertise and skillsets align with the needs of the public health community. For example, MCP is adept at helping clients develop continuity-of-operations plans, disaster-recovery plans, hot washes and after-action reports, all of which could prove useful to healthcare organizations as they work to identify and correct deficiencies that the pandemic brought into sharp focus.
"We think there will be ample opportunity to retool these services, and a slew of others that we provide, to support the public health community," he says.
Related Posts
Life at MCP: Meet Jackie Mines
Life at MCP: Meet Bonnie Maney
SHARE: