A Few Words of Praise for the National 911 Program's Laurie Flaherty
On Friday, December 17, Laurie Flaherty, the longtime coordinator of the National 911 Program, will retire. That will be a sad day for the 911 community and for me personally. I first got to know Laurie when I was editor-in-chief of Urgent Communications. Our paths crossed often over the years at conferences, usually when I was covering an educational session where she was speaking. Inevitably, I would make a beeline to her as soon as the session ended, at which time she would patiently answer every question that I had, generously giving me all of the time that I needed.
Laurie eventually became one of my favorite people, not only in the 911 community but also on Earth. The reader might think this is because of the kindnesses that she regularly extended to me and others, but that isn't it. Rather, it is because of the person she is—the kindnesses merely were the manifestation of her character and being.
While at MCP, I had the chance to witness Laurie's deft facilitation of the effort to identify recommended minimum training standards for 911 telecommunicators, which was long overdue. This was no easy task. The effort involved numerous organizations and individuals, each of which had specific ideas about how to achieve this goal — as well as very strong opinions that they were correct. The potential for this effort to quickly fly off the rails was incredibly high. But Laurie kept that from happening. Her modesty — another indicator of her strong character — prevents her from taking any credit, but trust me that Laurie's even-handed stewardship and ability to build consensus was an enormous factor in the successful completion of this project.
There are others at Mission Critical Partners (MCP) who have had much closer involvement with Laurie over the years than me — let's hear from them now:
John Chiaramonte, president of consulting services, Mission Critical Partners
My entrance into the public-safety world started as a first responder with my local volunteer ambulance corps, and before working at a 911 center I worked for a few years in an emergency department. Those experiences gave me an opportunity to work side by side with amazing nurses who demonstrated compassion and commitment to delivering great care to the severely sick and injured. Imagine my surprise and delight when I first met Laurie Flaherty, a registered nurse, who solely was leading the National 911 Program with the same level of passion and dedication to the 911 community as she demonstrated with nursing.
My first project with Laurie was daunting: a research-and-development project with more than 50 deliverables in a two-year period. The project culminated with a demonstration of Next Generation 911 technology — which nearly 15 years ago, had yet to be accomplished. Laurie always had high standards and I was proud to be part of the team of professionals she had assembled and honored to work with them to meet those expectations. That project, the Next Generation 911 (NG911) Initiative, was completed on time and under budget, and the materials developed more than a decade ago still are referenced regularly and helpful to today's NG911 implementations.
Very early in that first project, Laurie made something very clear to the project team: while she appreciated our insights and expertise, it was more important (and absolutely mandatory) that we get input from the stakeholder community. That has always been Laurie's bellwether for success—what does the 911 community need? Her priority on community input has been consistent throughout her leadership of the National 911 Program and her dedication to serving the 911 community has helped 911 authorities improve emergency response outcomes and lives have been saved.
Laurie is quick to tell anyone that she gets her best ideas from the community, whether it is members of the National Association of State 911 Administrators (NASNA), National Emergency Number Association (NENA), or other stakeholder groups, and she has been a consistent and dedicated advocate for 911 professionals across the nation. One needs only to navigate through 911.gov to see an amazing number of resources developed by the program over the years. That progress is the direct outcome of Laurie's tireless efforts behind the scenes working within and across the federal government.
Supporting Laurie in carrying out the program's important mission has been one of the greatest honors in my professional career. I'm lucky to have been able to see first-hand, her leadership and vision for the program in action, and look forward to carrying on her legacy as she enjoys a well-earned retirement.
Nancy Pollock, senior consultant, Mission Critical Partners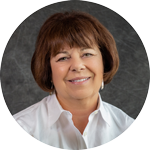 I frequently am reminded that, until very recently, the National 911 Program was a program of one, with the one being Laurie Flaherty. I suspect that many folks would be stunned by this fact. Those who believe that all government agencies are staffed by hordes of people and consist of multiple offices teeming with such staffers might be shocked to learn that what the program has produced over the past 17 years was accomplished with just Laurie "connecting the dots." She always shines the focus on the people from the 911 community who have served on interest groups, discussion groups, and focus groups, or on the contractors with which the program has been engaged, people who have become her "staff."
But the mission of the Program, as set forth by Congress many years ago, does not get accomplished unless the leader has the vision … and Laurie not only had the vision, she also has engaged the 911 community in such a way to embrace that vision and to see that it would flex and grow with the changes in technology and the communication needs of our nation. It has been a privilege to watch her work, to learn from her, to share in that vision, and to have helped in a small way to assist in the program's accomplishments. Whoever saw the skills, temperament, character, and abilities in this trauma nurse 17 years ago, and then convinced her to leave that meaningful and rewarding career to create another, arguably more meaningful and rewarding, career, should be commended!
Jackie Mines, senior consultant, Mission Critical Partners

I have had the great pleasure of supporting the National 911 Program since coming to MCP and working with Laurie in this role, but also since the program's beginnings when I was a state 911 director. I truly am impressed with her dedication to the 911 community. She always has been committed to providing resources to states and 911 centers, especially to those that don't have many resources at their disposal.
As a participant in national workgroups that Laurie has sponsored, I am impressed with her desire to hear from all corners of the 911 community — big or small, the "haves" and the "have nots." She creates an environment where ideas can be exchanged freely and fosters an attitude of "we can find common ground and a solution." Vendors and 911 authorities have found ways to overcome their differences and work toward a common goal under her guidance. The program is an MCP client, which has given me ample opportunity to observe Laurie and her approach closely. I appreciate the fact that she understands that, when tackling big problems, things may have to "get a little messy before a clear path is found." She doesn't squash this struggle but rather embraces it. As a result, creative and wonderful surprises happen.
I would be remiss if I didn't mention the important mentoring that Laurie has provided over the years to 911 professionals, especially women. It is not unusual for Laurie to pick up the phone to share an insight or opinion, or to offer cogent guidance. Laurie knows how to ask the right questions—to facilitate a result that is in the best interest of all concerned. When you work with Laurie, you don't want to disappoint her, not because you fear her, but rather because you respect her so deeply.
I have learned much from observing and working with Laurie. She has influenced the way that I approach my projects, challenges, and colleagues. I love her spunky attitude and will miss our day-to-day interactions. I do hope to work with her again in some other capacity and wish her a well-deserved retirement and new adventures.
Laurie and John recently collaborated on a podcast for the MCP Podcast Network that explores the future of 911 service in the United States — click here to watch. In addition, their insights were featured in an article entitled, "The State of NG911 in the U.S.," that Mission Critical Communications published in September — click here to read the article.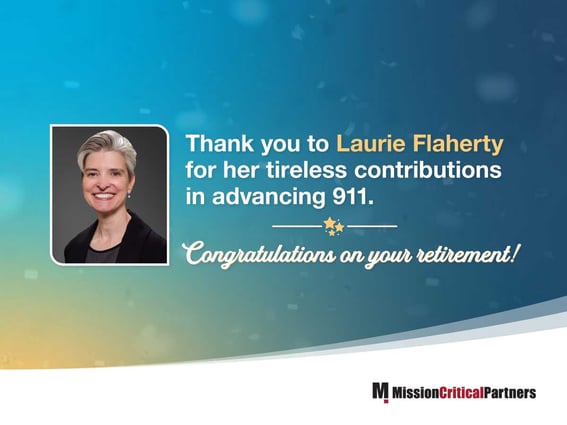 Glenn Bischoff is MCP's content specialist. He can be emailed at GlennBischoff@MissionCriticalPartners.com.
SHARE: