Four Takeaways from the Next Generation 911 Cost Study Report Delivered to Congress this Week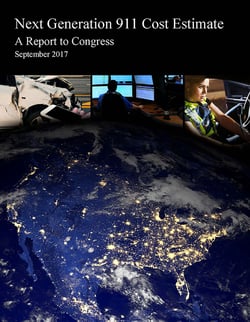 As part of the Middle-Class Tax Relief and Job Creation Act of 2012 (P.L. 112-96), Congress directed the 911 Implementation and Coordination Office, which is housed within the National Highway Traffic Safety Administration at the U.S. Department of Transportation and is a joint program with the National Telecommunication and Information Administration in the Department of Commerce, to investigate the cost of implementing Next Generation 911 (NG911) service across the country.
The report was intended to "serve as a resource as [Congress] considers creating a coordinated, long-term funding mechanism for the deployment and operation, accessibility, application development, equipment procurement and training of personnel for Next Generation 911 services."
Years later—after many hours spent interviewing stakeholders, collecting and analyzing data, and evaluating models—the National 911 Program this week delivered the Next Generation 911 Cost Study to Congress.
Mission Critical Partners applauds the progress made by the National 911 Program, not only by delivering this report, but also by creating a universal definition and framework for understanding the various stages of development and implementation of NG911 service nationwide. This effort marks a significant milestone in the Government's role of advancing the nation's 911 system and acting as an advocate for efficient and effective emergency response.
We caught up with several of our NG911 experts to discuss the four biggest takeaways from the Cost Study.
Takeaway #1: Today's piecemeal approach to NG911 will be insufficient for realizing nationwide deployment.
NG911 is being implemented in a piecemeal fashion today. According to the National 911 Progress Report, less than half of the states that participated in the study reported that they've made significant progress toward NG911 implementation. While roughly 44 percent reported that they've adopted a statewide NG911 plan, only 47 percent have installed and tested systems thus far.
The piecemeal approach can be attributed to funding limitations, particularly limited availability of grant funds. To realize ubiquitous, nationwide NG911 implementation, funding will be necessary at the federal level, and in some areas, federal or national oversight will be required for implementation assistance. We're particularly optimistic that $109 million was recently announced as part of the National 911 Grant Program and the National 911 Program continues its efforts to make important grant awards.
Takeaway #2: The NG911 Maturity Model is a highly valuable and needed tool to measure universal NG911 progress across the nation, as well as for determining the status of NG911 implementation for each state.
A multistage NG911 Maturity Model framework was created for the Cost Study to provide a methodology for measuring the progress of NG911 implementation nationwide. What's equally important is that this framework can serve as a basis for understanding the various stages of development and implementation of NG911 service nationwide.
The Maturity Model consists of six key domains that contain the functional elements that make up an NG911 system. Progress within each domain can be measured by five key stages that are shared across all domains. The result is a very flexible tool that will accommodate multiple deployment options; this is important when one considers that any one agency may have elements in more than one stage—or even all stages—at any given time until the end state is reached.
In a future post planned for next week, we will investigate the Maturity Model in greater detail.
Takeaway #3: There are three possible implementation scenarios for NG911, all which vary in cost.
The Cost Study considered three implementation models: state, multi-state and service solution. Of the three, the service solution was determined to be the costliest due to the fact that all maintenance, replacement costs and additional liability is the responsibility of the service provider.

The Cost Study does not recommend an approach to implementation that will meet the needs of every deployment—a hybrid implementation approach is more likely to occur, because every agency has different needs and capabilities.
Takeaway #4: The cost to deploy NG911 nationwide is estimated to be between $9.5 billion and $12.7 billion.
The Cost Study considered numerous factors, utilized data from many sources, and factored in the three aforementioned implementation scenarios to estimate the cost of migrating to NG911 service nationwide.
The implementation cost was estimated between $9.6 billion and $12.7 billion, which does not include the cost to operate the new systems.
In Summary
The price tag associated with NG911 is not small, and it won't be easy for Congress to find the money to fund nationwide deployment. What's equally clear is that our nation's 911 centers have never needed NG911 as much as they do today. The legacy analog 911 systems are aging and many have already passed "end of life" status with their service provider. Meanwhile, NG911 systems provide advanced capabilities to PSAP telecommunicators that will improve their ability to serve emergency callers and to provide enhanced situation awareness to first responders that will improve their abilities to save lives and properties, while keeping them safer. In short, NG911 technology needs to be available to citizens, regardless of where they are at any given time, as soon as possible.
This Cost Study paves the way for Congress to become the champion for NG911 by defining what it will take to fund nationwide deployment—just as it did years ago when it funded the nationwide public safety broadband network (NPSBN) being implemented by the First Responder Network Authority (FirstNet).
Related Posts
The Time is Now for Congress to Champion NG911
How We Predict NG911 Will Play Out in the Public Safety Industry
SHARE: