Data Integration Infographic Brings a Vast Technology Ecosystem Into Perspective
The technology ecosystem that exists in the public-safety/justice community is vast, complex and powerful. Because of its vastness and complexity, we developed an infographic to help clients more easily grasp it. Here's what it looks like: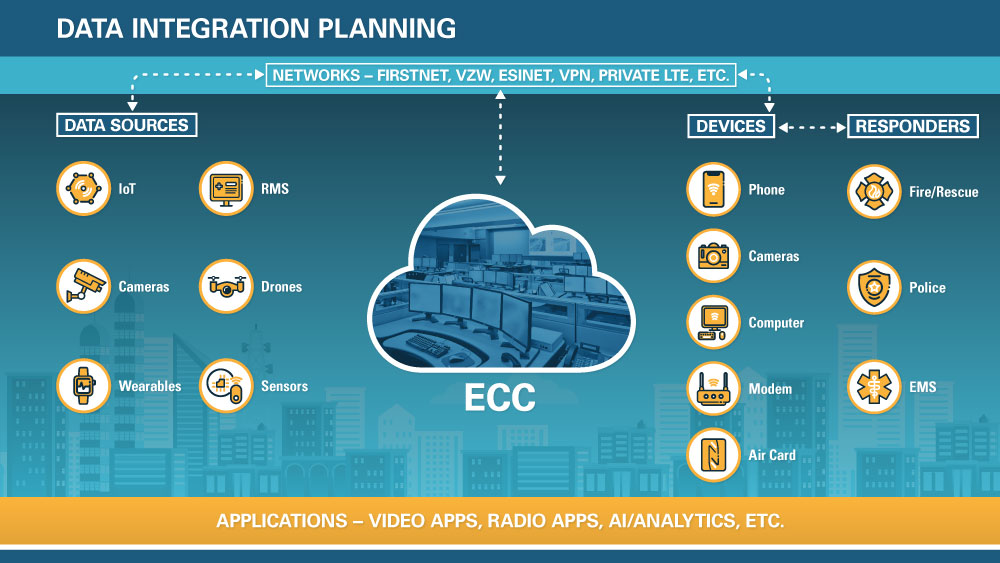 There are a few things about this infographic that jump out at me, as follows:
Note the bidirectional data flow between the various elements. This is critical. For data to be used optimally to enhance situational awareness, it needs to flow seamlessly in both directions—between devices and networks, between networks and emergency communications centers (ECCs) and between networks and emergency responders in the field.
The ECC is at the center of the technology ecosystem. Actually, it always has been at the center, but it hasn't always been perceived that way. As the technology capabilities within the public-safety/justice community continue to evolve and grow—and they will grow, exponentially—the information that is generated in the field will flow into the ECCs, which will analyze and contextualize the information and then push it back out to the field. The environment is analogous to a bicycle wheel—and the ECC is the hub of the wheel, while the spokes are the various data pipes that connect to the various user groups that depend on situational-awareness information, i.e., law enforcement, fire/rescue, emergency medical and so on.

Here's an example of how it can work. Recently I visited a client's ECC and while there a 911 call came into the center reporting a man with a gun. The telecommunicator immediately called up a camera feed that clearly showed the man—and yes, the man had a gun. The telecommunicator used this feed to direct officers who had responded to the incident. If it had been necessary, the telecommunicator could have pushed the video feed to the responding officers. This is powerful stuff—the more situational awareness that emergency responders have, the better they will perform their jobs, and the safer they will be.

The infographic does a wonderful job of depicting this environment—but is important to note that it is simplistic. The truth is that there are billions of Internet of Things (IoT) and wearable devices—e.g., alarm systems, traffic sensors and medical/biometric sensors—and hundreds of thousands of public and private fixed and mobile cameras, that already in play and capable of generating a mind-boggling amount of data. How does a public-safety or justice agency determine what information should be acted upon and who should receive it? The answer has a lot to do with artificial-intelligence and machine-learning technologies—which also are growing an evolving at warp speed.
Agencies have a lot of thinking to do in deciding which technologies to pursue. In doing so, they should avoid the "shiny object" phenomenon. It is easy to fall victim to this phenomenon, but agencies need to think holistically to avoid a patchwork of solutions that may not integrate well.
MCP has more than 150 subject-matter experts who can help you navigate the technology options—they would love to speak with you, so please reach out. One thing that they would like to share with you is MCP's recently launched DataScape solution, which leverages AI and ML technology to make sense of a tremendous amount of unstructured data. DataScape enables data gathering from a great many sources, without any need to convert the information into a specific platform. Once the data is gathered, the platform's AI and ML capabilities are leveraged to analyze and conceptualize the data, to make it actionable.
Finally, the Conference for Advancing Public Safety (CAPS), which MCP presented on June 15-16, 2021, featured several sessions that explored the gathering, analyzing and sharing of data within the public-safety/justice community. The conference, now in its second year, is available on demand and free of charge to anyone currently working for a public-safety or justice information. Click here to obtain more information and to register.
Scott Neal is MCP's vice president, director of wireless services. Prior to joining the firm, he was a major with the Pennsylvania State Police who oversaw the Pennsylvania Statewide Radio Network (PA-STARNet). Scott can be emailed at ScottNeal@MissionCriticalPartners.com.
Related Posts
SHARE: