Improved Criminal-Justice Outcomes Driven by Better-Integrated Data Will Rebuild Citizen Trust
An incredible amount of data exists in the world, and it's going to increase by orders of magnitude. In fact, some experts believe that the amount of data available worldwide will increase by 300 percent by 2025—a short five years from now. That's truly mind-boggling.

On a high level, more and better data leads to enhanced decision-making and improved outcomes, regardless of one's business. But at ground level, for data to be useful it needs to be "actionable," because a tsunami of raw information would be unmanageable at best, overwhelming at worst. This is especially true in the public-safety and criminal-justice environments, where lives are on the line and every second matters. There's simply no time, in the moment, to sift through a big pile of data and try to make sense of it.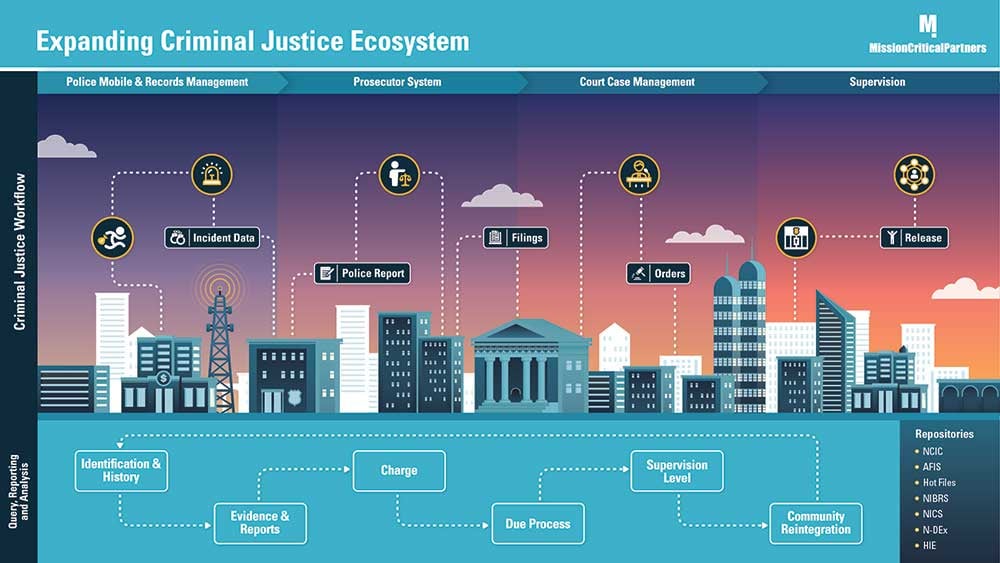 So, what do we mean when we say that data needs to be actionable? In part, it means that the data has context, that it has been analyzed in some manner to give it meaning—usually by leveraging artificial-intelligence and/or machine-learning technologies. But it also means that the data can be shared and accessed readily—and that long has been a struggle for public-safety and criminal-justice entities, due in large measure to the complexity of the ecosystem, which consists of the following:
Law-enforcement agencies (local, state and federal)
Prosecutors' offices (local, state and federal)
The courts (local, state and federal)
The corrections system
The 911 community
A lot of data is generated at each stage. Caller data is captured by the 911 system. Incident data and evidence are captured, first by officers at the scene in the immediate aftermath of the event, and then later by detectives who do a deeper dive into what happened. Often, investigators working for prosecutors uncover additional evidence. Reports are written. Charges are filed. Convictions, sentences and court orders are handed down. The convicted are remanded into custody. All of these actions generate data that would be useful from one end of the ecosystem to the other, if it only were easily accessible.
The data also needs to be gathered and screened in a consistent manner. This occurs today in emergency communications centers. A 911 call arrives and is fielded by a telecommunicator, who, in most cases, uses industry-standard response protocols—primarily law enforcement, fire/rescue and emergency medical services—to extract vital information from that caller and then to analyze that information to determine the appropriate response. The emergency response community must work toward developing a similar gathering-and-screening approach that can be used by field responders.
Not very long ago, the focus solely was on getting enough relevant data from a 911 call so that the appropriate emergency response could be dispatched. Now the public-safety/criminal-justice ecosystem needs to find a way of leveraging a treasure trove of data to improve outcomes.
This is more important today than ever before.
Integrating Criminal Justice Data to Improve Trust
Due to several high-profile incidents, a tremendous amount of distrust toward the criminal-justice system, and the law-enforcement community in particular, exists amongst the citizenry. The lack of trust between the citizenry and law enforcement is at the root of many problems that our country is facing right now. The way to improve trust is to enhance criminal-justice outcomes. When citizens believe that law-enforcement officers are acting appropriately as much as effectively—and agencies can demonstrate that performance—they feel safer, and when that happens, trust builds.
All of this requires integration and communication of more and better data throughout the ecosystem.
So, how can this be accomplished? Here are a few starter suggestions:
Start thinking about data as digital evidence
Break down long-standing silos that prevent seamless data-sharing between all elements of the ecosystem identified above
Interconnect disparate databases in a manner that enables automatic querying without any human component—to save time, reduce errors, and eliminate the potential for evidence being lost or compromised
Regarding the last bullet point above, two approaches already are available to ecosystem entities that will help them accomplish these goals. One is the digital evidence management solution (DEMS), which unifies all of the evidence data related to a specific case in an easily accessible repository.
Another concerns the use of data exchanges. In 2007, the Iowa Criminal Justice Information System (CJIS) was launched. It is a project that MCP subject-matter experts (SMEs) have supported virtually from its inception, when the state received a federal grant in 2000 to build a statewide architecture for integrating and sharing information bidirectionally across the state's criminal-justice community. Iowa CJIS is a "system of systems" designed to enable the integration and sharing of information between the state's criminal-justice organizations, seamlessly and securely, and in real time. This is accomplished via numerous data exchanges that the state established. The exchanges enable law-enforcement agencies and prosecutors to interact directly with the judicial branch's statewide case-management system (CMS).
The idea behind both of these examples is to enable authorized users to access whatever data they need, whenever they need it, regardless of whether they are in fixed or mobile environments. Achieving this important goal will lead to better-informed decisions, more crimes solved, crimes solved faster, and enhanced evidence that will lead to more convictions. More and better data also will lead to more crime prevented, through predictive-policing initiatives. All of this together will lead to citizens feeling safer and trusting the criminal-justice system and its law-enforcement component more.
Integrating and/or interconnecting a wide variety of disparate databases, while necessary, is not without challenges and it won't happen overnight. Many of MCP's 150-plus SMEs have deep experience and expertise in this area. We would love to support your efforts, as we have done for the state of Iowa for two decades—please reach out.
Kevin Murray is Mission Critical Partners' founder, chairman and chief executive officer. With a career spanning more than three decades in public safety, Kevin is focused on helping MCP clients, the public safety communications sector, as well as the communities they serve realize improved emergency response outcomes. He can be reached at kevinmurray@missioncriticalpartners.com.
Related Posts
SHARE: