Florida County Gains 911 Network Visibility with MCP's Co-Managed IT Platform
In Summary:
Lee County, Florida 911 officials were not satisfied with the network maintenance they were received from their technology vendors
MCP provides ongoing IT support for Lee County via an online dashboard that is intended to provide a real-time network diagram and information on active alarms and ticket status, as well as reporting capabilities.
---
Overview and Agency Challenge
Maintaining network up time during large-scale disasters like Hurricane Irma and during normal operations was top of mind for Lee County, Florida officials. Despite several 911 vendors providing 911 network monitoring services, Lee County officials weren't satisfied with the level of service they were receiving. They sought greater clarity on network activity, more customization (instead of an off-the-shelf solution), and a mechanism for identifying current and historic network activities.
How Mission Critical Partners Helped
To address these challenges, Lee County relies on several co-managed information technology (IT) solutions from MCP that provide enhanced visibility into the organization's network health and activity. First, MCP completed a dynamic network discovery of the call-handling network to map how it was configured and to identify the systems that compromise it. Then they worked with MCP to build a custom monitoring profile that would provide a secure, real-time view of the ongoing health of the county's network and a means to measure bandwidth and utilization of each system, device and circuit.
This information is available to Lee County via an online dashboard that is custom-designed and branded for Lee County.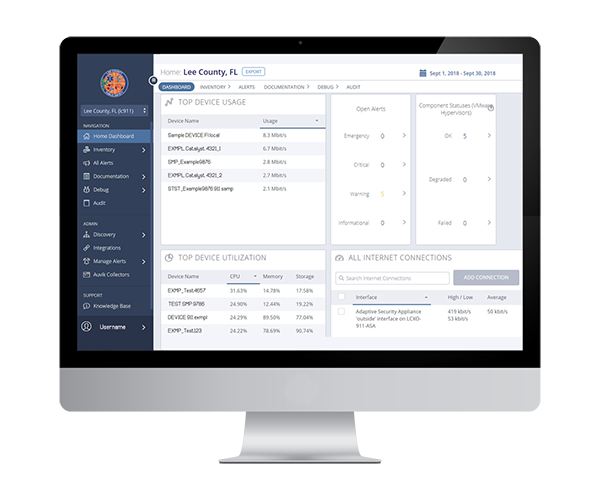 Results
The MCP monitoring solution and dashboard help Lee County see only what matters across its 911 network and expeditiously respond and correct issues that could impact network performance. County officials have gained control over the network and have enhanced real-time visibility that enables them to resolve critical device and circuit issues before disruptions occur.
"With MCP's co-managed 911 network support platform, we gained 24/7 visibility into our 911 environment through one, simple-to-use platform that is scalable to our needs. This is crucial because we can't protect what we can't see."

Matt Rechkemmer, former E911 Program Manager, Lee County Florida Department of Public Safety
SHARE: