Trends in Computer Aided Dispatch Systems for 911 Centers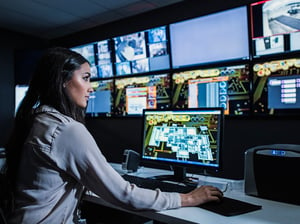 In emergency communications, the computer-aided dispatch system, or CAD, functions as the informational hub of the public safety answering point (PSAP). As technology continues to impact everything we do as consumers – from purchasing of goods, to our communications with friends, to navigating us from point A to point B – public safety must modernize its systems to meet communities' demands for faster and improved emergency response.
Over the years, driven by advancements in consumer technology, CAD systems have undergone their own evolution. For many years, CAD systems were specific to a single agency. Today, CAD systems have evolved into multi-agency, unified platforms that enable greater flexibility and facilitate information sharing, not just between the PSAP and field personnel, but also between departments and neighboring jurisdictions.
TODAY'S CAD TECHNOLOGY
Since their inception in the early 1970s, CAD systems have continued to change the way public safety operates. What was previously a cost-prohibitive, clunky system has now become an interoperable, nimble platform that works to simplify communications between 911 and first responders.
Today's systems offer:
Cloud-based technology – Agencies have the option of selecting a private cloud model that is owned and operated by the agency in conjunction with a network operations center (NOC) or data center, or a public model in which cloud space is rented from an owner/operator such as Google, Amazon or IBM.
Virtualized server environments – Server systems have been around for many years and are still dominant today. However, the newest iterations offer a suite of software capabilities in addition to virtualized, premise-based services including: offsite data backup and disaster recovery; connection to multiple internal and external databases; browser-based CAD for remote access; integrated automatic vehicle location; and text-integrated CAD.
Today's CAD systems can also integrate with many, if not all, solutions already in place within an agency. This includes records management systems (RMS), emergency call-handling equipment, emergency medical dispatch software, mobile data applications, location verification software and geographic information systems (GIS).
A LOOK AHEAD
As technology continues to evolve, CAD and mobile data systems will continue to advance as well. As network speeds increase and become more affordable, CAD technology will expand, and systems will have the ability to:
Share rich data, including images and videos, with first responders en route to an incident to provide information for enhanced situational awareness.
Integrate with consumer wearable technology to provide access to additional information about a person in an emergency.
Pair with drone technology to provide dispatchers and first responders with a birds-eye view of an emergency scene or crisis situation.
Integrate with applications, like ShotSpotter, to identify an emergency and proactively dispatch a response.
Incorporate live video feeds from closed circuit camera systems deployed throughout a city or on college campuses.
As public safety personnel respond to increasingly complex events, they require technology with the ability to support their efforts. If you're planning a CAD system upgrade or replacement, it is vital to keep in mind that the system you select must be flexible, scalable for future growth and capable of meeting your agency's needs as technology and community expectations continue to evolve.
Mission Critical Partners (MCP) provides comprehensive, end-to-end support for agencies, from needs assessments and identifying agency and system requirements, to development of procurement documents and facilitating the procurement process, to implementation and management of the new system. If you have a CAD or other automated system project on the horizon, contact me to learn more.
Related Posts:
Four Tips to Avoid a Failed Public Safety IT Project
SHARE: