PSAP Cyber Security Threats and How to Prepare Your Agency [Webinar]
In 2016, the U.S. Department of Homeland Security (DHS) issued an alert indicating that government facilities are being targeted by hackers and cyber criminals, a trend that DHS expected would increase.
Not only were they spot on, the issue has since specifically impacted emergency communications systems on various scales and unprecedented levels several times since that alert. For example:
Last October, a Twitter post containing a shortened link took over the phone and dialed 911 repeatedly was clicked more than 117,000 times by Apple phone users. 9-1-1 centers across the country were affected.
In Washington D.C., 70 percent of storage devices that record data from D.C. police surveillance cameras were infected with ransomware eight days before President Trump's inauguration.
In Licking County, OH, a 911 center went without computers for a time because of a countywide network shutdown to prevent an attack from spreading.
A significant threat to emergency communications systems

Attacks such as these could result in many detrimental and unforeseeable effects on emergency response, for example, a 911 center's automatic location identification (ALI), automatic vehicle location or geographic identification system (GIS) data could become compromised.

To compound the issue, targeted attacks are not the only concern. Data breaches are often self-inflicted wounds and any number of potential circumstances can lead to a facility breach. Human error is a major factor with security breaches, such as routine password changes or the use of personal devices in the workplace. Even underlying issues that enable many phishing, hacking and malware incidents can be attributed to human error in some way.

Read more about the threat on our whitepaper, "A checklist for securing public safety answering point facilities, personnel and data."

PSAP directors and IT Managers know that there is a growing list of cyber risks threatening 911 operations today, and with the evolution of Internet Protocol (IP)-based, broadband enabled communications such as Next Generation 911 networks, and 911's complex infrastructure, this threat is exacerbated.
no silver bullet solution
The challenge for PSAPs is that there is no silver bullet device or application that will protect their agency from all threats.
A cyber security strategy is comprehensive and
multi-faceted – it's imperative that it touches all the systems, networks, applications and people that play a role in supporting their mission of preserving lives and property.
On Thursday, August 17, MCP cyber security experts will host a hour-long webinar discussing how today's public safety answering points (PSAPs) are increasingly vulnerable to cyber threats — both network and human-based — as new and emerging technologies enter the PSAP, where they will provide.
An overview of the risks that exist today and how they are expected to evolve as PSAPs become more complex
Definitive threats and recent incidents that have already impacted PSAPs
Best practices and actionable ideas that PSAPs should employ to protect their organization.
If you are interested in seeing the webinar, you can register here.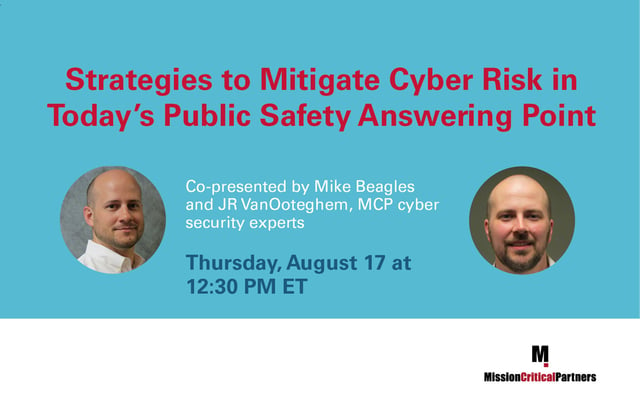 SHARE: