Learn More About How Drones Are Being Used in Public Safety
Over the last two decades, I have written now and then about a relative who was a career firefighter for the city of Chicago. I am writing about him again today because he's the reason I'm so excited about a panel discussion that I'll be moderating in a couple of weeks during MCP's second-annual Conference for Advancing Public Safety (CAPS).
Billy Stahlman was my mother's first cousin. His firehouse was near our home, so we visited often. Every holiday dinner we would hear a few of his stories, but not many because he was a pretty humble guy. The one we heard most often was about the time he was buried in a building collapse. It took quite a while to find him and then dig him out. He was badly injured and was laid up for quite a while. But given the hero that he was, it was no surprise that eventually returned to the job.
When I learned that a session entitled "Drones and Public Safety: What's Next," was on the CAPS schedule, my thoughts immediately turned to Billy. I mused about how nice it might have been if incident commanders had been able to launch a drone—also known as an unmanned aerial vehicle, or UAV—equipped with a thermal-imaging camera to the collapsed building. Doing so wouldn't have lessened our cousin's injuries, but he would have been found much earlier because the camera would have detected his heat signature despite the rubble.
The next person that popped into my mind was an old friend from my days as the editor of Fire Chief and Urgent Communications magazines, Charles Werner. He is the former chief of the Charlottesville, Virginia, fire department and former chair of SAFECOM, which was formed by the Department of Homeland Security in the aftermath of the 9/11 terrorist attacks. Today Werner, a certified drone pilot, leads a non-profit organization called DroneResponders, whose mission is to promote drone use within the public safety community. When I called him to tell him about the session, he immediately agreed to join the panel.
Other panelists include:
Jake Saur, director of public safety for Manatee County, Florida, which is using drones in a very unique way
Michael Leo, captain with the New York City Fire Department, who leads the FDNY's special operations command – robotics
Thomas Madigan, assistant sheriff with the Alameda County (California) Sheriff's Office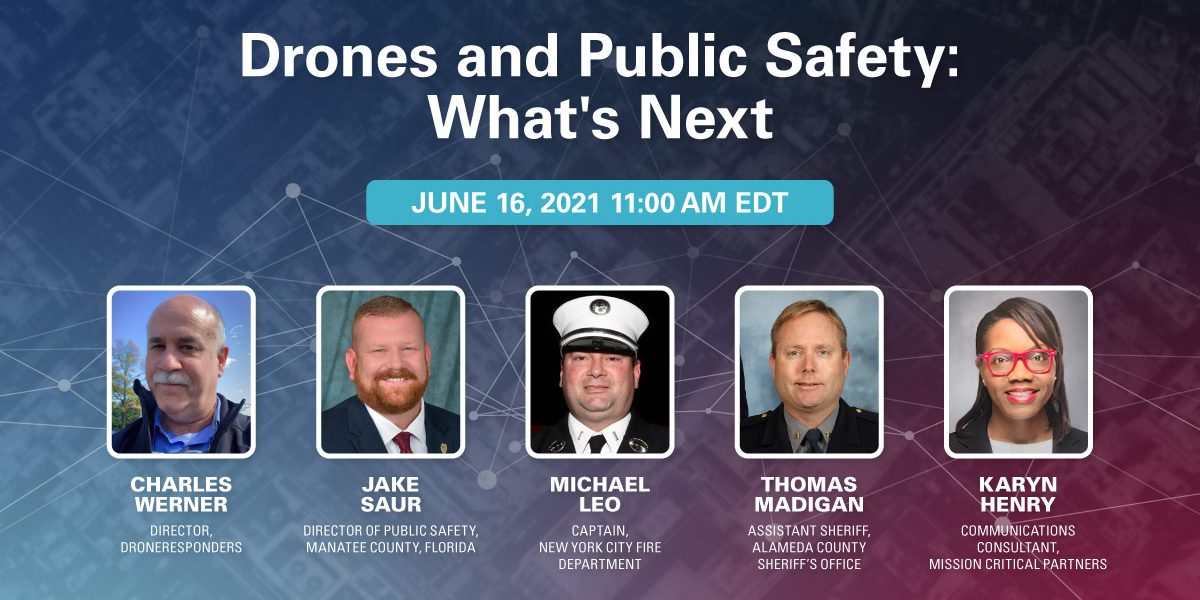 They will join Werner in sharing the plethora of uses cases that have developed for law enforcement and fire/rescue. Karyn Henry, an MCP communications consultant, also will be on hand to explore some the current governance obstacles to drone use in the public safety community.
CAPS is a virtual two-day conference featuring more than 30 education sessions, panel discussions, keynote addresses and networking opportunities. It will be held June 15-16 and available free of charge to anyone currently working for a public-safety or justice organization. Click here to obtain more information and to register.
I hope that you'll join hundreds of your peers by participating in this year's conference. We guarantee that you will find it time well spent—and you can't beat the price.
Glenn Bischoff is MCP's content specialist. He can be emailed at GlennBischoff@MissionCriticalPartners.com.
SHARE: