10 Years of MCP: An Interview with Brian Bark, Co-Founder
"MCP's success 'is all about good people doing good work every day"
A previous post offered the memories and perspectives of MCP chief executive officer and co-founder Kevin Murray in marking the firm's 10th anniversary, which is being celebrated in 2019. In this post, MCP Insights visits with another co-founder, Brian Bark, who today is the firm's senior vice president/national sales director.
Insights: What were the biggest challenges faced in the beginning and how were they overcome?
Brian: The biggest challenge was setting up the company—we were starting flat-footed. We always knew what we wanted to be, and collectively the vision always was consistent. But we had to set up the banking and insurance, and get the accounting and legal support, all the things it takes to start a company. We knew that we didn't want to be a three-person company, and growing MCP to the point where it was influential in the industry also was extremely challenging. We had many client contacts when we opened for business, but they all were under contract.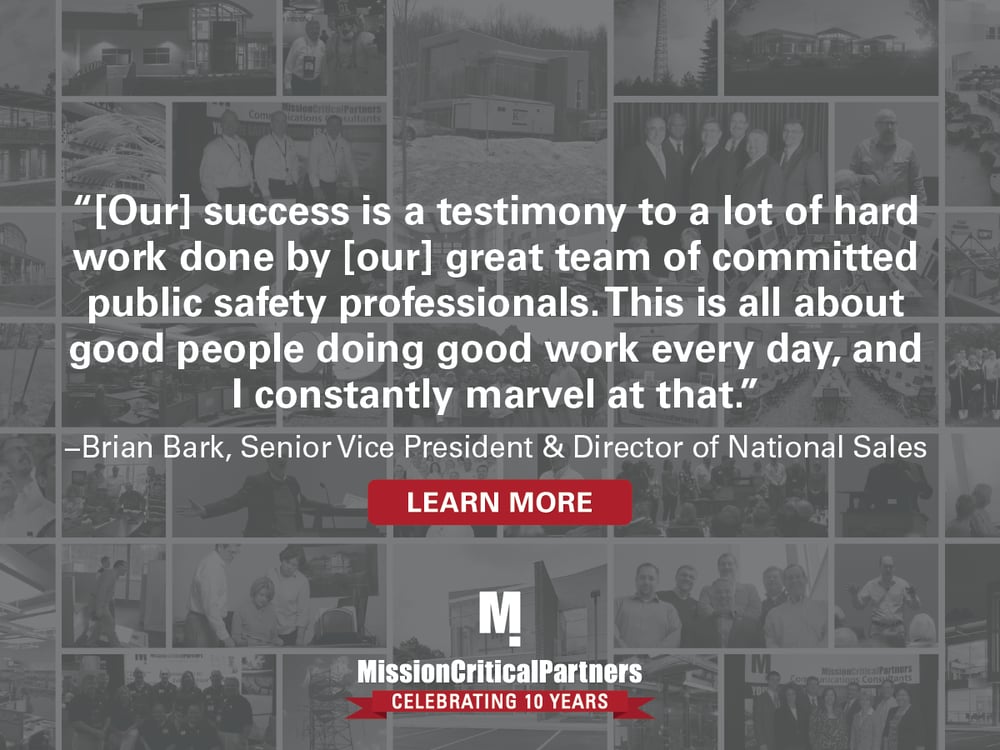 Insights: So, what did you do, start dialing and hope for the best?
Brian: Pretty much. We started calling everyone we knew. One of the things that surprised us was the loyalty of those contacts toward us. We heard over and over, "wherever you go, we will follow." One contact told us to be patient until he could "disentangle" from his existing contracts. That really resonated with us. It took him 18 months, but ever since then he has been a client
Insights: That must have been very gratifying and energizing.
Brian: It was. A little scary too. We started this thing without a single client. I was working out of my basement. We were using services like "freeconferencecall.com" to keep costs down.
Insights: What was the best/most-important decision made over the first 10 years?
Brian: There were two. The first was establishing our core values as the guiding principles for the firm. The second was establishing a "big, hairy audacious goal" that would be the roadmap to our future. Every major decision—which of course trickles down to the minor decisions—was based on those two items, which were foundational to our success. They defined who we are.
Insights: What was the toughest decision?
Brian: The three of us put up everything we had—our homes and other assets—to secure the loans we needed to start the business and establish funds for hiring, travel, conferences and overhead. That was a difficult choice at the time. There have been other tough business decisions along the way. We have hired friends and acquaintances from within the industry and it didn't work out as either of us hoped. While challenging, we had to put the greater good above the individual. Ensuring that we have a robust, successful firm that is going to influence the industry is key, and to do that there are difficult decisions that have to be made regarding people, finances and any number of other elements.
Insights: What would you change if you had the chance to do it all again?
Brian: Nothing immediately comes to mind. You grow more through mistakes than you do successes—and much of the time you didn't make a mistake, you just didn't get the outcome you desired because of factors you weren't able to anticipate, or circumstances that changed. I suppose one thing all of us wish is that all the people we hired had worked out. It would have been nice if everyone who came here was an A player who never would want to go anywhere else—but that's unrealistic.
Insights: Other than the loyalty shown to you, Kevin and Len, what about MCP's first 10 years have you found most surprising?
Brian: When we started this, we thought that if we could grow to 75 people we could have influence over the industry we serve. In less than a decade we grew to more than 100 employees and have clients in 30 of the top 50 MSAs (metropolitan statistical areas). I don't know how surprised I am by that, but what I do know is that the success is testimony to a lot of hard work done by of the great team of committed public safety professionals and the flexibility we have in serving our clients. This is all about good people doing good work every day, and I constantly marvel at that.
Insights: What about the industry that MCP serves have you found most surprising or gratifying over the firm's first decade?
Brian: I marvel at the solutions our teams put together on behalf of the client. Working with the industry's early adopters who are pulling others forward has been very rewarding. Technology is eliminating boundaries that exist, whether they be technical, operational or geographical. The beauty of technology change is that it provides the opportunity to do more with less. I'm not talking about less investment. Rather, I'm talking about unification of capabilities and sharing of resources across demographically or politically diverse communities to achieve thresholds that previously couldn't be achieved. Technology can be used to share capabilities across jurisdictional boundaries for the greater good. A regional or statewide ESInet is one example. Another involves data-sharing across jurisdictions to improve situational awareness for first responders. Looking forward, that is very exciting.
Insights: If you could name just one, which area has MCP had the greatest impact, and why?
Brian: Assisting clients in the migration from legacy communications platforms to those that represent the future. Some consultants can plan and some can procure, but they can't implement, at least not the way MCP can. Our team can implement. Each of our clients has different parameters, different restrictions and different influences that they're dealing with, and our ability to work with our clients to work around their issues to get things done is what sets us apart.
Insights: What will MCP and the industry look like a decade from now?
Brian: There will be much more sharing of technology and data. Technology sharing will help to ensure network and system reliability and interoperability. Data sharing will enhance situational awareness. But that data can't stop at the PSAP—it has to make it to the emergency responders in the field. The data has to be analyzed and then the right data has to be passed through to the responders to enable better-informed and actionable decisions. That's going to require some level of artificial intelligence or machine learning. Our role will be to help our clients make the decisions that are right for them and the communities they serve.
SHARE: