Mission Critical Partners Identifies Largest Risk Areas for 911 Centers After Completing Over 100 Vulnerability Assessments
Data shows public safety agencies continue to see issues in staffing and implementation of Internet Protocol networks, a foundational component of Next Generation 911 (NG911).
State College, Pa. (November 18, 2021) — Mission Critical Partners (MCP) announced that the firm reached a significant milestone when it surpassed the 100th vulnerability assessment on behalf of clients in conjunction with its Model for Advancing Public Safety (MAPS®) methodology. MAPS is a proprietary assessment model developed by MCP that analyzes data and identifies vulnerabilities compared with critical success factors for public safety agencies.

Using the MAPS methodology, MCP compared the results of these vulnerability assessments and identified the following observations:
Public safety agencies appear to be doing a good job regarding governance and training, but staffing continues to be an issue — which is not surprising given that staffing long has been an issue for public safety agencies, one that has been exacerbated by the COVID-19 pandemic.
Overall, public safety agencies appear to be placing a strong emphasis on technology enhancements.
Implementations of emergency services Internet Protocol networks (ESInets) and next generation core services (NGCS) need a boost. This is important because ESInets and NGCS are the two foundational components of an NG911 system, and an NG911 system in conjunction with other technologically advanced systems will enable an agency to improve its emergency response posture.
However, agencies appear to be doing well in the area of general information technology as it relates to NG911.
"Holistic views into the public safety environment are incredibly valuable and will become more so as we perform more assessments," said Darrin Reilly, MCP president and CEO. The more data we will be able to analyze, the more observations we will be able to make, and eventually, will be able to quantify the state of the industry."
The MAPS assessment measures key elements of a public safety agency's environment against a range of success factors, which are based on MCP's expertise, formalized accreditation programs, and industry standards and best practices. The MAPS methodology determines whether each element is public safety grade, in transition, or at risk. For example, an assessment focused on an emergency communications center's operations would analyze the following elements:
Governance and organizational structure
Policies and procedures
Staffing
Training
Quality assurance
Leadership and planning
Technology
Facilities
MAPS, launched in 2019, places a strong emphasis on strengths, as well as weaknesses that need resolution across an agency's technologies, operations, staffing, and governance. Each assessment provides a report card that enables clients to learn where their organization stands concerning each element and holistically. A vital aspect of each assessment is the creation of a diagram (figure 1) that summarizes the findings in a manner that makes them easily digestible. In a way, this diagram provides them with a visual executive summary and roadmap.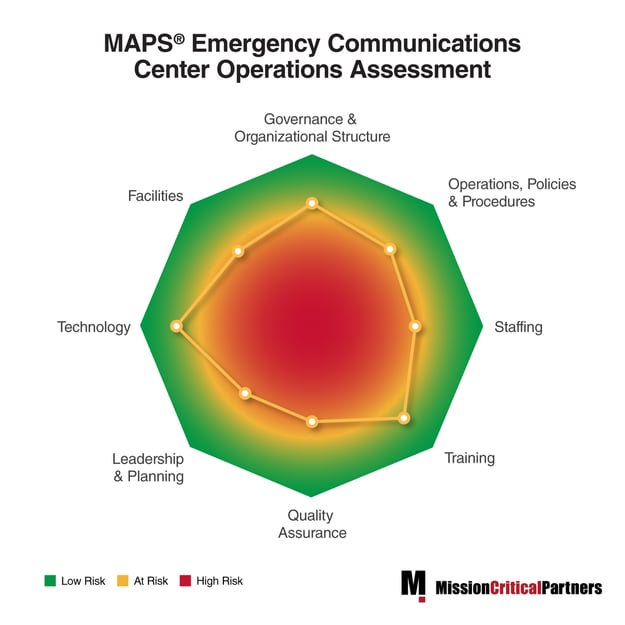 "Over time, MAPS assessments can be used by clients to compare their agencies to others of comparable size and type, within their region, or across the entire ecosystem," Reilly said. "That's where the real power is generated."
About Mission Critical Partners (MCP)

Mission Critical Partners (MCP) is a leading provider of data integration, consulting, network, and cybersecurity solutions specializing in transforming mission-critical communications networks into integrated ecosystems that improve outcomes in the public safety, justice, healthcare, transportation, and utility markets. Our comprehensive experience and vendor-agnostic approach helps us develop modernized solutions for our clients that achieve maximum value and optimal efficiency while mitigating risk. Additional information and career opportunities are available at www.missioncriticalpartners.com.
CONTACT:
Mission Critical Partners
724-964-2004
SHARE: