Public Safety Needs to Make Itself Heard Regarding the FCC's 6-GHz Order
In April, the Federal Communications Commission issued an order that enables unlicensed devices to share 1200 megahertz (MHz) of spectrum in the 6 gigahertz (GHz) band, to meet the growing demands for wireless broadband services.
The FCC cited in its order a Cisco report that projects mobile data traffic will more than double between 2017 and 2022. It also cited an Ericsson report that predicts the average amount of data per month used by a smartphone will increase from 7 gigabytes (GB) in 2018 to 39 GB by 2024. A large portion of this mobile data traffic is expected to be delivered on an unlicensed basis utilizing Wi-Fi, Bluetooth and similar protocols.
However, the 6-GHz band traditionally has been used by microwave systems operated by public safety and utility licensees to backhaul voice and data traffic. According to some experts, the influx of unlicensed devices into the band means that incumbent licensees are at risk of encountering harmful interference that could disrupt their operations, and at worst could cause a system outage.
"Interference is going to happen," said Mark Gibson, director of business development and regulatory policy for Comsearch. "The question is, what is going to be done about it."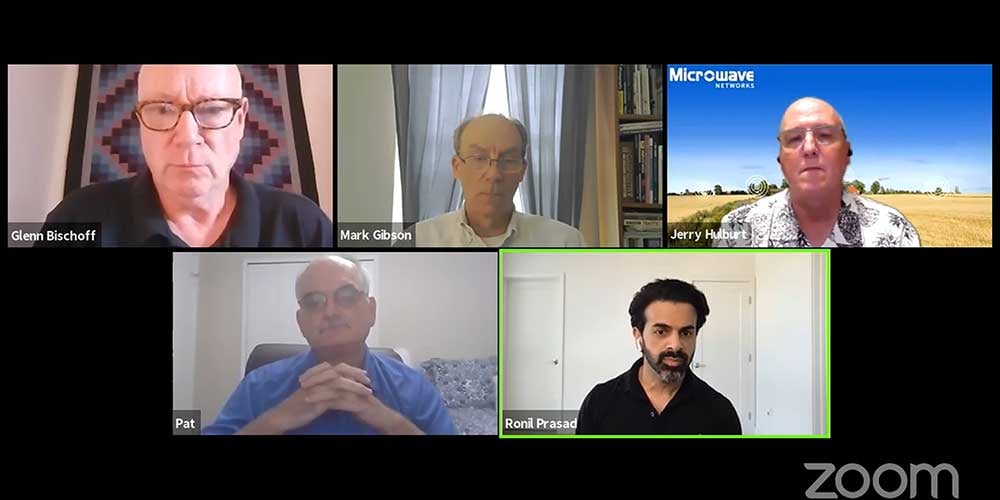 Gibson participated last month in a panel discussion on this topic that was featured in MCP's inaugural Conference for Advancing Public Safety, a three-day virtual event that enabled some of public safety's biggest names to explore some of the most impactful topics that are affecting agencies and their personnel. Listen to the panel discussion on demand here.
He was joined on the panel by representatives from several microwave system vendors, including the following:
Patrick Picquet, Nokia's senior director of business development
Jerry Hurlburt, Microwave Networks' vice president
Ronil Prasad, Aviat Networks' senior director of solutions marketing and business development for North America
All of the panelists expressed dismay with the order because of the potential harmful interference that could be inflicted on their public safety and utility clients. The consensus expressed during the panel discussion was that the FCC erred when it subjected standard-power indoor/outdoor devices to automatic frequency coordination (AFC), but not low-power indoor devices, e.g., Wi-Fi and Bluetooth access points. These indoor access points generally connect devices in homes and businesses—e.g., smartphones, tablet devices, laptops, and Internet-of-Things (IoT) devices—and millions, perhaps billions, of these access points are in use.
The FCC is requiring AFC for standard-power devices because they operate at a higher power. In contrast, the low-power devices will operate under a contention protocol similar to current Wi-Fi devices. A contention protocol allows many users to operate on the same radio channel without pre-coordination by limiting the amount of time that a device can transmit. Prasad sees this as a big problem.
"Naturally, the more devices (and) the more unregulated power output these devices have, the more noise you have," Prasad said. So, it's going to be an issue."
A complicating factor is that, because interference previously was not an issue in the 6-GHz band, devices that operate in it are unequipped to detect interference natively—usually an external spectrum analyzer must be used.
While the influx of unlicensed devices in the 6-GHz band is a scary proposition for public safety and utility entities, the panelists offered several tips that could reduce the risk.
"Hope for the best but prepare for the worst," Hurlburt said. "Don't wait for a system outage."
Here are a few things that licensed operators using the 6-GHz band can do to help their situations:
Ensure that their Universal Licensing System (ULS) data is accurate
Establish a baseline for noise floor, bit-error rate, received signal level, and signal-to-noise ratio
Actively monitor for anomalies
Implement early-warning detection systems
Redesign microwave paths based on the established baseline, building in greater interference protections, such as additional fade margin
Implement high-performance antennas
In the 6-GHz band, the AFC system exists to protect incumbent licensees from harmful interference generated by standard-power unlicensed systems and devices. Because ULS data is used by the AFC system as the go-to source for licensed microwave path technical information—e.g., location, radio, antenna and frequency—it is imperative that every licensee's ULS data is accurate.
In its order, the FCC issued a notice of proposed rulemaking (NPRM) that seeks comments regarding further expansion of unlicensed operations within the 6-GHz band. All of the panelists urged 6-GHz licensees to make themselves heard.
"It's like my grandmother used to say—if you don't vote, you don't have a right to complain," Picquet said.
But time is of the essence—the consensus of the panel was that low-power devices could be operating in the 6-GHz band by the end of the year.
In the meantime, MCP's subject-matter experts stand ready to help incumbent 6-GHz licensees protect their operations against the onslaught of unlicensed devices that are heading their way—please reach out.
SHARE: