Meet Molly Falls: Public Safety Project Manager by Day, Triathlete by Night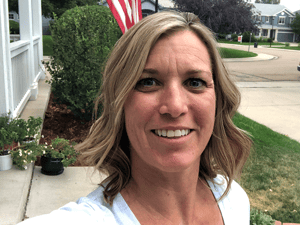 After years of swimming competitively while earning bachelor's and master's degrees from Ball State University, Molly Falls found her way into the public safety industry and then to Mission Critical Partners (MCP). Now a senior technology specialist who specializes in managing statewide 911 projects, Molly credits years of intense training and balancing the daily grind of athletics with academics as influential factors in her ability to multitask, manage tight deadlines, and remain focused as a project manager.
After earning her master's degree in information and communication science, Molly went on to become a Cisco Certified Network Associate (CCNA). After relocating to Boulder, Colorado, after college, Molly took a job with Intrado managing wireline, wireless, and VoIP deployments, and thus began a career that has spanned more than two decades.
Molly continues to be highly competitive and driven. She began training for triathlons—for fun. During this phase of her life she took on another job that would require her to leverage her multitasking abilities—being a mom. Today, she takes pride in being the mother of two boys, ages 11 and 12, and finisher of an Ironman and several Half Ironman triathlons.
Team Spirit
Though progress in swimming and triathlon training is made individually, there comes a point in every athlete's career when they are training for something more than themselves. For Molly, team spirit is where she gets her drive still today. After navigating a variety of different roles throughout her career, she learned that the positions where she thrived were the ones where she was client-facing.
"Looking back on my most exciting assignments throughout my time at MCP, the singular element that each project has in common concerns being able to lead a diverse team of people, closely collaborating to reach the finish line," Molly said.
In her role at MCP, she has managed and/or supported multiple state-level programs, public safety technology deployments, Next Generation 911 (NG911) implementations, operational and data management initiatives, and 911 database applications. In her role, she leverages her operational leadership and technology experience to develop solutions that ensure the success of projects and services for the clients she serves.
According to Molly, she has worked on two projects at MCP that stand apart as being particularly memorable.
The most satisfying is MCP's support of the Tennessee Emergency Communications Board, which was created to establish emergency communications for citizens across the state and assist emergency communications districts in the areas of management, operations and accountability.
"In Tennessee, we are supporting the TECB with numerous statewide initiatives, including the rollout of text-to-911 service, and the transition to a robust, recognized, secure and redundant emergency services Internet Protocol network, or ESInet, which provides the backbone for Next Generation 911 service," Molly said. "We're also supporting an initiative to increase the state's cybersecurity preparedness."
Another particularly memorable experience concerns helping to develop a findings-and-recommendations report in 2018 that led to the passage of three laws intended to move the state of Maryland towards statewide implementation of NG911 service. Among them was Carl Henn's Law, enacted in 2019, which mandated a significant change in how 911 service in the state is funded. The additional funding that will be available to Maryland's emergency communications centers (ECCs) will support the migration to NG911 service across the state, support statewide text-to-911 service and additional training for 911 specialists.
Both of these projects share commonalities that inspire Molly to continue her work to improve emergency response outcomes. "My passion is helping people, moving projects forward, solving problems and helping our clients improve their relationships with constituents," Molly said.
The Future of Public Safety
Witnessing the passion, accountability and maturity exhibited by her peers is something that Molly finds highly motivating—indeed, it makes her proud to come to work and help MCP's public safety clients improve emergency response outcomes.
"I've always had a passion for public safety, but when I came to MCP, it elevated my passion and enthusiasm for supporting this community," Molly said.
An element that Molly finds particularly exciting concerns the increased emphasis on ensuring the mental well-being of telecommunicators—the 911 specialists who endure a tremendous amount of exposure to trauma on the job, putting them at risk for developing symptoms related to PTSD.
"Ensuring that the mental health needs of the people who answer 911 calls are recognized and, more importantly, are supported is extremely critical for public safety's future," Molly said. "While technical transformation remains important, I am thrilled to see the human element being focused on more and more."
SHARE: