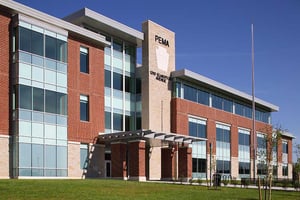 The building that houses a public safety answering point (PSAP), emergency operations center (EOC) or data center is a key component of successful, continuous mission-critical operations that support emergency response. Traditionally, such a facility will impact the agency and community it serves for two decades or more. As that 20-25-year mark approaches, how do you decide when it might be time to consider a renovation or brand-new facility? Start by asking yourself the following questions:
How old are the building and any additions that have been built over the years?
Is the facility located in a space or area that was specifically designed to house mission-critical operations?
Is the building old, small or dilapidated?
Has the building been hardened to secure the facility and protect continued operations?
Does the building pose health, safety or other risks to the staff?
Are existing infrastructure, building systems or space limitations already causing concerns?
Have you added systems without reviewing the effect on power and cooling?

It is also important to regularly conduct inspections and reviews to ensure that your facility continues to meet or exceed industry and building standards, including, but not limited to:
Accessibility standards set forth by the Americans with Disabilities Act.
Hardened facility standards outlined in NFPA 1221:

Standard for Installation, Maintenance and Use of Emergency Communications Systems.

ICC 500, which is a standard for the design and construction of storm shelters. Provisions in ICC 500 include building siting, flood criteria, means of egress, debris hazard, occupancy, survivability and fire safety.
Green building standards for commercial buildings from the Environmental Protection Agency.
National Electrical Code (NEC) Article 708, which addresses considerations for critical operations power systems (COPS).
NFPA 110:

Standard for Emergency and Standby Power Systems.
Ultimately, the goal should be to ensure that your facility is the last building standing in a disaster scenario. It is important to conduct regular building inspections, assessments and testing of building systems, particularly as your facility ages, to ensure that they continue to operate and perform as required by industry and building standards. This ensures that mission-critical operations can continue with little-to-no interruption while also keeping your systems running and staff safe.
If your public safety facility is aging and you have concerns about its sustainability, a consultant can provide a thorough, third-party assessment of your facility and systems to help you determine your course of action. For additional information and insights on the facility planning and design process, reserve your complimentary copy of MCP's industry-exclusive book, "Expert Advice to Guide Your Facility Project."