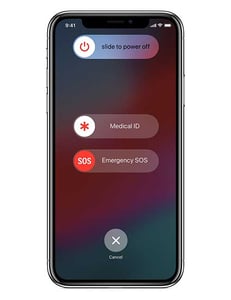 Few things are as maddening as when a software release is issued and almost immediately the developer is pushing out patches. But that's just the way it is with technology—things often don't always work the way they're supposed to right away.
Recently we've been hearing about problems associated with a new feature of Apple's iPhone operating system (iOS) that reportedly has been generating a lot of abandoned 911 calls. The Emergency SOS feature enables citizens to place an emergency call without actually dialing 911; those designated as emergency contacts also will be alerted.
However, one county in Nebraska reported 7,000 abandoned 911 calls over the first seven months of 2019, and pointed to Emergency SOS as the culprit. This is a huge number. But it is difficult to believe that Emergency SOS is the root cause, primarily because of how the feature works. In newer iPhones (version 8 and above), the user has to press and hold the side button—normally used to turn the device on and off—and one of the two volume buttons, simultaneously. Doing so causes the Emergency SOS slider to appear; the user then has to slide the slider for the emergency call to be placed. Older phones require the user to press the side button in rapid succession
five
times to get the emergency slider to appear.
Regardless of the tactic used, the call only will be placed automatically if the user has indicated this desire in the device settings; otherwise, the emergency slider needs to be used, which is a safeguard of sorts.
Abandoned Calls are a Huge Problem for 911 Centers
Obviously, the mechanics of an Emergency SOS call are much more involved than those of a pocket dial, which is why it is very likely that something else is going on in Nebraska to generate an average of 1,000 abandoned calls each month. Nevertheless, abandoned calls are a huge problem for every 911 center. Such calls need to be validated, which requires a call-back that eats up precious time and prevents the call-taker from fielding calls that are legitimate. Worse, if the abandoned call cannot be validated, the telecommunicator has no choice but to send the cavalry—police, fire/rescue and emergency medical services (EMS)—which is a tremendous waste of resources and places emergency responders at unnecessary risk.
So, the cause of the deluge of abandoned calls in Nebraska surely needs to be investigated, and if Emergency SOS is even a small part of the problem, Apple needs to do something about it.
Understandably, when the Nebraska story broke, it caused much angst in the public safety sector. But there is another, perhaps better, way of looking at this situation—and that is, text-to-911 already is evolving, even though most of the country still doesn't have it in its basic iteration. The evolution is terribly exciting.
For years text-to-911 has been heralded as a quantum leap forward for those who have hearing and speech disabilities. It also is quite handy in situations when a voice 911 call would place the caller at greater risk, such as during a home invasion. But during an emergency, people tend to freak out, which could compromise their ability to type—garbled 911 communications, regardless of whether they are voice- or text-centric—make the call-taker's job much more challenging. A new feature in the Android Phone app will provide yet another means to remove that factor.
Pixel and select Android devices soon will have the ability to initiate a 911 call by tapping an icon for either police, fire/rescue, or EMS depending on their emergency. The Google feature then initiates a 911 call with an automated voice service. A computer-generated voice describes the type of emergency that the user is having and explains that the caller may be unable to speak or hear, yet provides the capability for the caller to speak, if able. Additionally, the feature provides the caller's device-based hybrid location based on Emergency Location Services (ELS), as well as the caller's plus-code address—a huge improvement for the location-delivery capabilities of the phone, which is especially important if the user cannot verbalize his/her location.
How 911 Centers Can Guard Against Abandoned 911 Calls from Emergency SOS Calls
One thing that 911 centers can do over the short term to guard against the flaws that might exist in Apple's and/or Google's new approaches to text-to-911 is to implement a text-from-911 capability, which would improve the ability of call-takers to determine whether an abandoned 911 call actually is legitimate.
Over the long term, embrace the notion that the technologists always figure things out. Recall that there was a time, not that long ago, when nearly everyone in public safety was adamant that Internet-Protocol technologies never would be used in the sector because of the jitter and latency issues that were endemic. Today, the nationwide public safety broadband network (NPSBN) being implemented by the First Responder Network Authority (FirstNet) not only is IP-based, it is based on commercial wireless technology (Long-Term Evolution, or LTE). Similarly, when the NPSBN first was contemplated, very few, if any, public safety communications officials believed that it ever would be used for mission-critical voice communications. But 3GPP has added a mission-critical push-to-talk component to the LTE standard, and it's only a matter of time before it figures out the talkaround element, which is essential for the NPSBN to be used for emergency response voice communications.
So, regarding the alleged issues concerning Apple's and Google's foray into the text-to-911 world, keep the faith—and never bet against the technologists.
Related Posts
Apple Announces a Promising Step Toward Solving 911's Wireless Location Challenges
MCP Urges FCC to Promote Uniform Adoption of Location-Based Routing Technologies
Cautious Optimism Surrounds CTIA Announcement Regarding Improving 911 Location Accuracy