Rich Cagle Joins Mission Critical Partners to Lead Growth
Mission-critical communications expert brings extensive public-sector experience
State College, Pa. (December 6, 2021) —
Mission Critical Partners (MCP)
announced today the appointment of John R. (Rich) Cagle as chief growth officer.
In this role, Rich will be responsible for all MCP growth activities with a focus on accelerating the expansion of MCP's
lifecycle management services (LMS) business
, which spans
information technology,
cybersecurity management
, and
data integration
. Cagle also will play an active role in advancing MCP's presence in the
justice sector
. With this appointment, Rich will join the firm's executive leadership team and report to Darrin Reilly, MCP's president and chief executive officer.
Cagle has more than 30 years of experience working for firms that serve state and local government clients across the U.S., Canada, Latin America, and Asia. His highly diverse background includes leadership and engineering roles at Airbus, Oracle, SAS Institute, SunGard, and Motorola Solutions. He joins MCP from EF Johnson (EFJ) Technologies, a division of JVCKENWOOD, where he served as EFJ's senior vice president of sales and led the company's global sales efforts.
"Rich has a history of successfully leading sales organizations through transformations and constructing a foundation for scalable growth," Reilly said. "Given his extensive experience in selling services to state and local governments, Rich will act as a force multiplier for MCP's continued growth, with managed services at the forefront."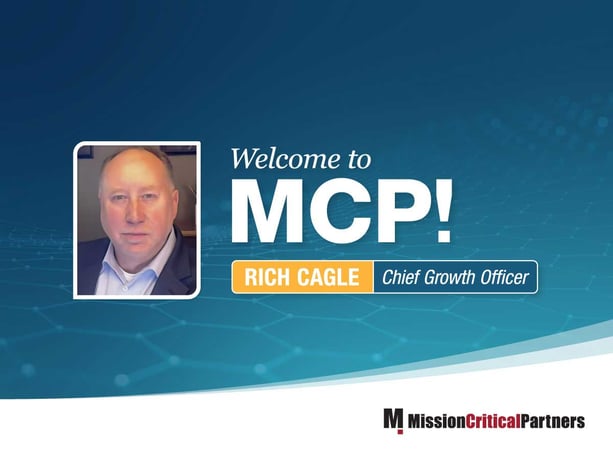 Cagle will be responsible for growing sales across MCP's entire professional services portfolio. During the past several years, MCP has experienced extensive growth providing solutions to the justice sector and in managed services. The firm's managed services portfolio expanded in 2020 when MCP added an extensive data integration offering to its services portfolio, which helps public-sector agencies integrate complex systems, processes, and data. These solutions are becoming increasingly important as the public sector's digital landscape grows and the demand for IT, cybersecurity, and integration services rises.
"I have spent my career helping companies realize profitable growth and being an advocate for improved outcomes in the public sector," Cagle said. "MCP has an unmatched presence and services portfolio in the public-safety and justice sectors and is uniquely able to help agencies employ innovative approaches that best position them for the future. I am pleased to join MCP and look forward to helping the firm deliver added value for the clients it serves."
SHARE: