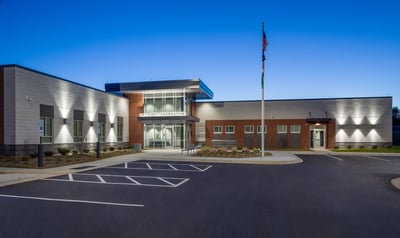 STATESVILLE, N.C., (September 5, 2019)—On Friday, August 23, 2019, Iredell County, N.C., officials and staff, Mission Critical Partners, and ADW Architects, celebrated the grand opening of a new public safety complex. The $17.3 million complex, which is located at 404 Bristol Drive in Statesville, houses the County's public safety division to include emergency management, emergency communications (ECOM), emergency medical services (EMS) and the fire marshal.
The County, which partnered with Mission Critical Partners (MCP) and ADW Architects to design, build and program the new facility, had spent the previous 40 years serving the emergency communications needs of the County from a single room that accommodated a maximum of just 10 telecommunicators per shift. The new, 38,000 square foot public safety complex can be expanded to accommodate up to 30 telecommunicators per shift and provides a comfortable working environment in a flexible space.
"Our previous emergency communications space was small, dark and cramped," said Iredell County Assistant County Manager Joseph Pierce. "This new facility not only gives us the space we desperately needed, but also offers our staff amenities that make the environment more comfortable to work in and new technologies that will help us improve emergency response in Iredell County and across the state."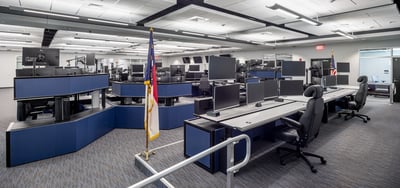 Housed within the complex are new, state-of-the-art public safety technology systems, including a modernized radio system that enables telecommunicators in Iredell County to dispatch for counties across the state should the need arise and a Next Generation 911-ready, IP-enabled phone system. The complex also includes 17 additional telecommunicator pods and takes advantage of facilities shared with other departments, such as conference rooms, break areas, and restrooms, all housed under the same roof to maximize space and funds and create efficiencies. The facility itself is designed and built to meet the needs of the County and its citizens for the next 60-plus years.
"The MCP team is thrilled for Iredell County's emergency communications teams," said Kevin Murray, MCP chairman and chief executive officer. "The new, state-of-the-art public safety complex will give the staff and first responders the resources and amenities they need to do their jobs and improve emergency response for the County. It was an honor for us to play a role in such an exciting project."
The public safety complex in Iredell County has been fully operational since July 17, 2019.
About Iredell County, N.C.
Iredell County, N.C. is located in central North Carolina and is home to nearly 179,000 citizens. Its emergency communications center fielded approximately 7,500 911 calls in June 2019. Additional information on Iredell County, its public safety division and emergency communications operations can be found at https://www.co.iredell.nc.us/.
About Mission Critical Partners (MCP)
Mission Critical Partners (MCP) is an independent consulting and IT support services firm that helps clients enhance and evolve their public safety systems and operations through our extensive experience, knowledge and resources. By providing insight and support every step of the way, our clients are able to transform their mission critical operations, maximizing the value of their investments and ensuring optimal performance and success. Additional information and career opportunities are available at www.MissionCriticalPartners.com.
CONTACT:
Morgan Sava
Vice President, Director of Corporate Marketing
Mission Critical Partners
608-658-8858
MorganSava@MissionCriticalPartners.com